Materials: Costs, Benefits, Alternatives
When we embark on a renovation process (or even start thinking about one), it's no surprise that there are many worries that cloud our mind–especially ones regarding costs.
Sure, the whole process of renovation feels daunting enough. After hours, days, or even weeks, of scorning through the internet and seeking advice, you might have finally found a style that suits your preference perfectly.
But what if that style is too expensive?
Looks aside, even if they don't look particularly luxurious, some materials just cost more than others due to the resources or technology needed to produce them. So to be told that your dream home may not actually come true because of too-high costs, would be heartbreaking.
Thankfully, with the advancement of technology, there are now many materials available on the market — this means that many looks can be replicated without having to use the actual materials themselves. Fancy some marble aesthetic but don't wish to burn a hole in your pocket? No problem–there are solutions for you!
But as our options become more diverse, we only become more confused. They may all look similar, but how do you ensure you're using the most suitable material for a particular spot? Most importantly, how do they differ in terms of quality and cost?
Fret not, we've laid out the basics of everything you need to know about some commonly used materials. Check out the comparisons below, and happy choosing!
Granite has a very distinct appearance, due to the unique veining of each tile, and hence is a very attractive and popular choice for various purposes–you simply can't deny its visual appeal!
Extremely versatile, granite resists stains, scratches  and moisture well, and is durable–suitable for almost any room. It's also super low-maintenance: sealing can usually last 10 to 15 years to keep the material stain-resistant, as long as you use a stone cleaner for daily cleaning. Need I say more?
Granite is commonly used for countertops in kitchens and bathrooms, and there is good reason as to why! Its properties make it suitable for such rooms due to the conditions that it can withstand, and also comes in a wide variety of colours and styles that are sure to fit in well with your room design.
While granite used to be much more expensive, it has become much more affordable now. However, depending on the style chosen, prices can still be on the higher-end range, so be prepared to fork out some money for it! But don't worry–with all the perks of granite, you're definitely getting what you're paying for.
However, if granite seems too costly for you, there are many alternatives! More affordable materials such as laminates, solid surfaces, or even more budget versions of quartz come in many designs, of which granite replicates are a-many.
Elegant and luxurious, it's no wonder we all marvel at the beauty of marble. As stones typically are, each marble tile or slab is unique and the veinings within each cannot be replicated. Polished marble also adds on to the rich, yet simple feeling that marble exudes, drawing attention to whichever surface it's used on.
Marble is also seen in bathroom floors and counters, as well as in kitchens, since it is both waterproof and heatproof. However, marble can be scratched and stained easily, which cannot be completely prevented even with sealing, making marble difficult to repair. Hence, being a more temperamental stone than granite, marble is less often seen in common areas such as living rooms where chances of damage are significantly higher.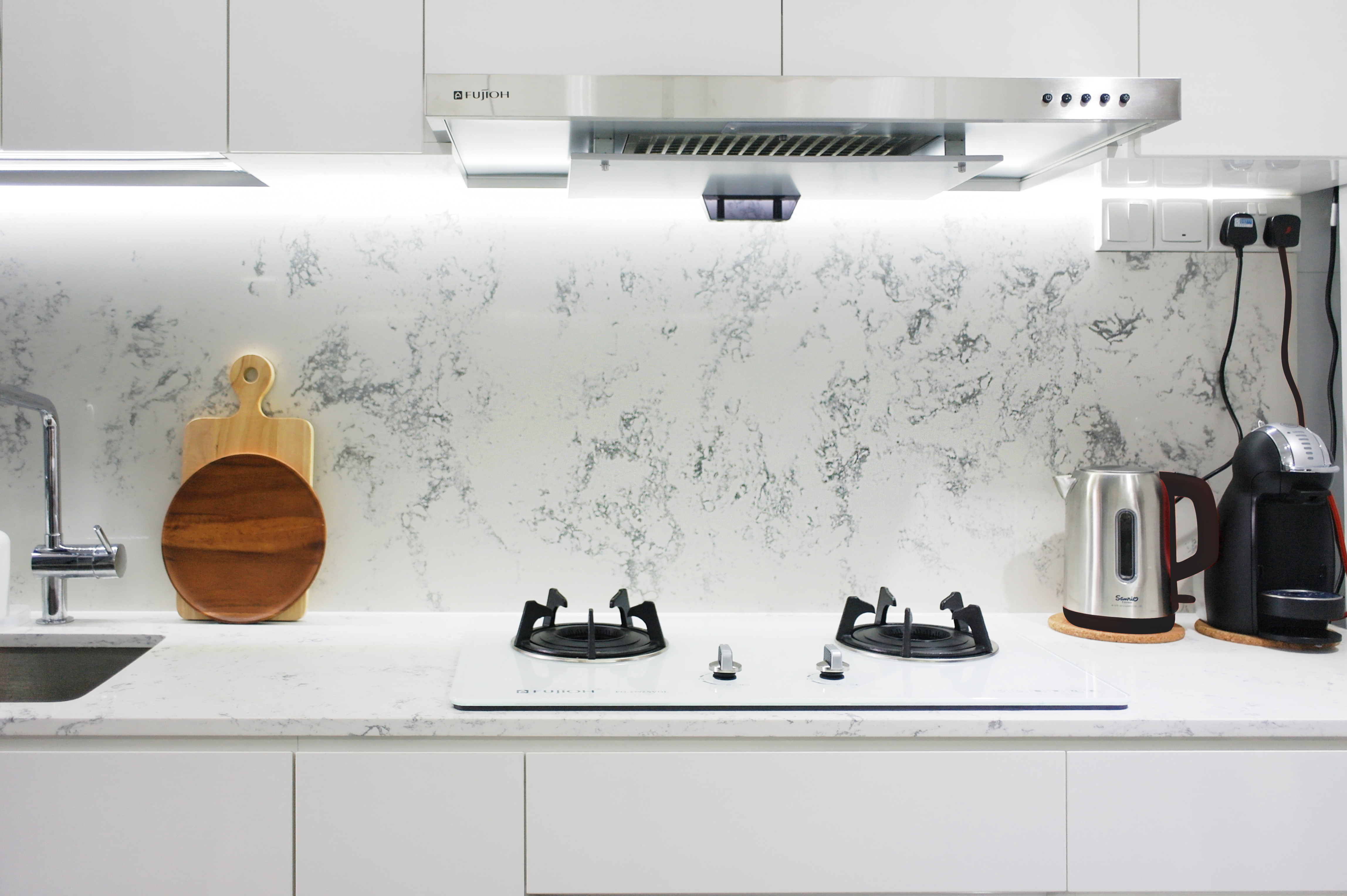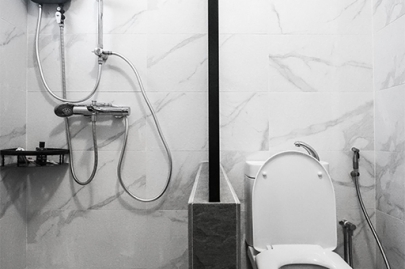 Furthermore, marble is actually quite costly relative to the price of other materials. Hence, if you're worried about destroying whichever surface you're setting your eyes on for marble and thus wasting your money, it might be worthwhile to consider other alternatives such as quartz and laminates that can give you a similar look but are more suited to your needs (and help you save some money!).
Quartz can be seen as the ideal combination of both marble and granite, combining both of their benefits together. In general, quartz surfaces are nonporous and can resist both staining and scratching, making them more adaptable in terms of where they can be used.
Furthermore, quartz surfaces do not need to be sealed annually. The best thing about quartz, is that it provides you with a solution for your dilemmas. If you're fancying the looks of other designs but find it too costly or high-maintenance, quartz offers a large range of colours and patterns, some of which closely resemble that of other stones!
When it comes to cost, quartz is actually comparable to granite. However, the range is wide and definitely depends on the brand or grade that you go for. Naturally, each brand of quartz will have its own advantages and disadvantages, and it's up to you to choose which one would be better suited to your needs–either cost-wise, or practicality-wise.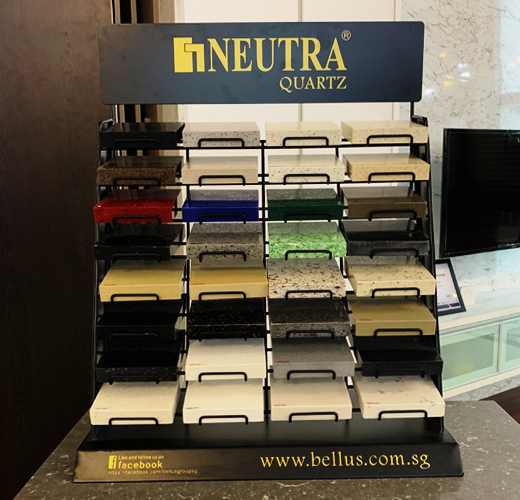 Silestone is a brand of quartz manufactured by Cosentino.
Silestone is a compound made of 94% quartz, with the other ingredients including colour agents and polyester resin. This allows Silestone to come in a variety of colours and designs, and the resin gives Silestone an even brighter, shinier appearance than standard granite or marble, while holding the quartz crystals together. This makes Silestone surfaces unique and undeniably attractive.
Not only is Silestone beautiful, it is highly resilient and durable. Scratch resistant and scorch resistant, it is hard to chip and makes a great surface for countertops, walls, floors or even sinks. Antimicrobial protection is also added to Silestone, preventing bacterial growth and keeping the surface clean. Silestone surfaces are also nonporous and thus stain-resistant.
Furthermore, Cosentino offers a 25-year warranty for Silestone countertops, ensuring that you get the most out of your money!
When comparing against Caesarstone, Caesarstone tends to cost a bit more, but they also offer a larger range of designing in terms of profiling and finishing, due to the flexibility of the material. Caesarstone also focuses more on natural stone looks, so if you're looking for something edgier and more special, Silestone offers a slightly larger variety of colours and designs that you can consider!
Both Silestone and Caesarstone are top-quality quartz; regardless of which you choose, they are equally worth the investment and will most definitely serve you well for a long time to come!
Caesarstone is one of the most well-established brands of quartz, with the company being established in 1987.
Made of 90% quartz, Caesarstone's quartz surfaces are extremely high-quality, adaptable, and can be cut into any shape and size to suit any design.
Caesarstone is highly scratch and stain-resistant, and also resists both hot and cold temperatures. It also can withstand impacts and does not wear easily from daily use. Perhaps one of the best selling points about Caesarstone is its low maintenance–its surfaces do not require any form or sealing whatsoever. As long as it is regularly wiped clean with water and standard soap or detergent, rest assured your surface will remain and look as good as new even after years of use.
To top it all off, Caesarstone offers lifetime warranty for residential projects that use its materials, making sure you'll always have a clean, beautiful and functional surface wherever you choose to apply it.
When comparing against Silestone, Caesarstone tends to cost a bit more, but they also offer a larger range of designing in terms of profiling and finishing, due to the flexibility of the material. Caesarstone also focuses more on natural stone looks, so if you're looking for something edgier and more special, Silestone offers a slightly larger variety of colours and designs that you can consider!
Both Silestone and Caesarstone are top-quality quartz; regardless of which you choose, they are equally worth the investment and will most definitely serve you well for a long time to come!
Corian is a solid surface brand by DuPont that has been in the industry for decades, establishing itself as one of the highest grades of solid surfaces.
Corian is made from a blend of natural minerals mixed with high-quality acrylic, creating a material that is both water and stain-resistant. Its nonporous quality also ensures that the surface remains clean and prevents bacterial growth, making it extremely suitable in the kitchen for food preparation. Furthermore, Corian is extremely durable, withstanding heat and chemicals such as cleaning products, as well as relatively large impacts from heavy objects.
All Corian products are backed up by a 10-year residential warranty by DuPont, so rest assured they will have your back should anything go wrong.
Corian lands in the higher end of the price range for solid surfaces, although the quality and assurance they provide is definitely worth the monetary investment. However if the cost is a cause of concern for you, you may also consider other brands such as Silestone's quartz, that may be considerably more affordable while also meeting your standards for quality!
Solid surfaces are made of varying combinations of acrylic and polyester. They come in many patterns and colours as well, which can also be made to resemble natural stone such as marble or granite. Though they may look less 'real', they still look convincing enough, unless you're particular and have a great eye for detail.
Solid surfaces are highly resistant to stains and scratches, and are completely renewable. Scratches, burns and even deep scrapes can all be repaired. Though quartz is said to be more heat resistant, under normal, daily-use conditions, solid surfaces are equally as resistant to heat.
Furthermore, they are more pliable, allowing seams to be fused together and bent to hide joints that will otherwise stand out unattractively. More importantly, this can prevent dust and grime from sticking to these joints, making them popular choices for kitchen countertops as they're easy to clean. Solid surface sinks are also possible, making your countertop look more seamless and uniform!
Take note that solid surfaces with a higher acrylic composition typically cost more, though it also means they are stronger and more resistant to mildew and stains, as acrylic is nonporous.
Though solid surfaces are not as hardy as your natural stone surfaces, they definitely have their own perks and can last you many years as well. They are a great alternative that can still provide a beautiful surface for a relatively lower price, without much compromise in quality!
Made of wood pulp and resin, laminates are often considered a great alternative to numerous other materials out there. Laminates can make very convincing copies of various designs and styles from hardwood to even leather. With the wide variety of options, you'll definitely find something that catches your eye.
Laminates are also typically tough and good at resisting moisture, scratches and stains. However, laminates cannot be refinished once worn or damaged, so make sure you're careful with them! They are commonly used for cabinet or wardrobe exteriors, as well as floor or even wall panels.
For floors, laminate flooring is usually designed for floating-floor installation (that doesn't require gluing/nailing down), making it quick and fuss-free. However, be sure to consider other alternatives for areas that frequently get wet such as bathrooms, as water can still seep into the joints between laminates.
The price of laminates can vary as well, depending on the quality. Typically, high-pressure laminates are more durable and can also have specific performance properties, such as chemical, fire or wear resistance. These tend to be a bit pricier, but are still more affordable than most materials, and the quality will definitely be worth every cent!
Vinyl tiles or planks are the most common type of flooring, due to its resilience as well as affordable cost compared to ceramic, which has similar properties. Vinyl tiles, generally, are easier to install and are eco-friendly since they are reusable.
Being moisture-resistant and less prone to cracks and breaking, vinyl has made popular choices for flooring in high-traffic areas such as living rooms and bathrooms due to its durability. They can also be used on walls and other surfaces!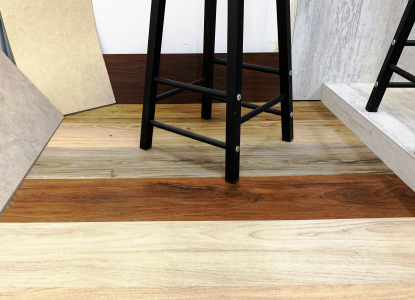 Vinyl floors also offer a wide variety of designs and styles, including (but not limited to) wood, stone and concrete looks. The price point for vinyl also ranges based on the quality and design of the tiles chosen, so it will definitely be able to fit into your budget!
Dekton is a specially created material by Cosentino, the same company that produced Silestone.
Made from a special mix of natural quartz, porcelain and glass fused under high pressure, Dekton is created in compact slabs that gives it high mechanical resistance. The compactness of the material also gives you more room for imagination when it comes to design, and creates a sleek look. Dekton also comes in a variety of colours, sizes and thicknesses to suit your needs.
The technology in which Dekton is produced with also ensures that the material has 'zero porosity and lack of micro-defects that cause tension or weak spots', making it extremely durable, and ensuring stains and dirt do not stay on the surface. Furthermore, Dekton is waterproof and non-combustible, and resistant to many daily-life disturbances–fire, heat, stains, scratch, UV, abrasion, ice and even thawing. This means you can even set a scalding hot pan onto the surface, without worrying about damaging it.
Dekton is used mostly for worktops, floor coverings and even in ventilated facades, where style and quality meet to give rise to sturdy, yet intricately designed structures. Similar to Silestone, Cosentino also offers a 25-year warranty for Dekton surfaces.
Wherever used or applied, Dekton is sure to perform up to, and exceed expectations for any surface material. However, because of the absolute high-quality of the material, Dekton is considerably more expensive than most other materials, though for good reason.
Otherwise, quartz or granite only narrowly lose out to Dekton (but do you really need a fireproof surface in your kitchen?), and are great alternatives for a slightly lower cost. Moreover, Silestone is Cosentino's brand of quartz, the same company that makes Dekton, so rest assured you'll won't be compromising on quality!
Kompacplus is a specially designed surface material that can be used for various functions–including countertops, floor panels, walls and more!
Made of layers of kraft paper and resin, Kompacplus is a thin material of only 6mm in thickness. However, don't judge a material by its thickness–Kompacplus is still extremely durable and resilient, and can withstand impacts from everyday use.
It is designed to be a non-porous surface and is resistant to water, steam and heat–perfect for kitchen and even bathroom surfaces, where hygiene is top priority! Kompacplus is also mostly inflammable, which means that you can leave your hot cooking on it without worrying that you'll burn through the surface. Out of their various series, they are most well known for their stone and wood designs, which create stunning replicas of these materials.
The price of Kompacplus is comparable to your standard quartz material, though you might be able to save more (and save some time) simply by installing Kompacplus over your existing surfaces–no need to hack at all. If you're looking for something versatile, sustainable and eye-catching, be sure to include Kompacplus for your consideration!
Renovations are by no means easy–they're a long process, with lots of thinking involved. If you're still feeling confused or overwhelmed, that's perfectly normal!
As long as you have something in mind, feel free to book an appointment with us and we'll gladly guide you through whatever you need to know!
Don't worry, first appointments are free! 🙂