How to Design Your Ideal Kitchen and Bathroom
When we think about renovations, our mind naturally drifts to the living room or the bedroom–where we spend most of our time at home in.
We often pain ourselves, going through thorough thought and decision-making processes in order to find designs and themes that we want, and which suit our needs and personality as well. (Pssst: If you're facing problems with that, click here for some help!)
However, what we don't realise is that we tend to gloss over the details and designs of spaces such as kitchens and bathrooms. Though we may also spend a considerable amount of time in these rooms, there is often a mindset that functionality triumphs over aesthetics in these spaces.
While that's not exactly untrue, it's also important to know that these spaces can play a huge role in making a statement in our homes. Just because they have to serve more specific functions, it doesn't mean that our options are limited. Neither does it mean that we have to concede to mediocre-looking kitchens and bathrooms.
Though it may seem like a tough mission, it really isn't that hard. Sure, sometimes we won't be able to get the colours or designs to match exactly, especially when it comes to appliances, but paying attention to smaller details can do the trick; and most importantly, we have to keep the bigger picture in mind. As long as we design it as a part of the home, and keep in mind to maintain a sense of flow throughout the space, these areas can definitely look great without looking too awkward!
In this article, we'll not only guide you through how to get your dream kitchen or bathroom, but also some give simple tips on maintaining order and cleanliness to save you some (a lot) of headache in the future. (We know it's a struggle!)
Read on to find out more!
When (re)designing a kitchen, planning the layout should be the most important part of the process.
With an effective layout, your kitchen should not only be aesthetically pleasing, but should also enable you to work comfortably, efficiently without obstruction, and even provide you with ample space on your counters.
Renovating a kitchen isn't always easy–there are many limitations to it, keeping in consideration the placement of water and gas pipes, as well as space restrictions.
However, one of the easiest ways to get started is to think with the 'kitchen work triangle principle' in mind–keeping the sink, refrigerator and stove within close proximity to one another to reduce unnecessary steps in the kitchen. This will allow you to perform tasks from food preparation and storage to cooking and washing efficiently without much hassle.
While we may not always be able to reconstruct our kitchen from scratch, it's definitely possible to make minor changes, that will improve the state of our kitchens drastically. Each layout has its own pros and cons, and ultimately it's up to us which one we stick to, and how we make the most out of them!
If you're a bit lost for ideas, here's some of the most common kitchen layouts and how they can be arranged to maximise the space you have, and balance between functionality and aesthetics.
While the size, shape and general design of your counter should be considered as part of your kitchen layout, it's not always as simple as just that.
When it comes to counters, the material of your countertop is essential! Ideally, the material chosen should match the function of your counter–whether it's for prep work, baking or cooking–that should allow your counter to remain in tip-top condition for the longest time as possible.
If you're confused about what material you should choose, check out our brief walkthrough on materials here and how to pick one that's best suited for you (and your budget)!
Definitely a key feature of any kitchen, kitchen sinks are important for a wide variety of reasons; they're involved in almost any activity that goes on inside!
Choosing a sink might seem like a no-brainer, but there are actually many different types of sinks available the market – from materials to designs and even to installation types, choosing the right sink can actually make your life in the kitchen much more enjoyable!
The material of your sink is one of the most important things you have to consider. Think about the main function of your sink, and keep in mind the different cost, durability and level of maintenance needed for each material.
1. Stainless steel
Light and easy to install, stainless steel sinks are definitely one of the most versatile ones out there. They are inexpensive and resistant to heat, but can stain more easily than other materials. Stainless steel sinks also tend to be noisier; just add some external padding, and you'll be fine!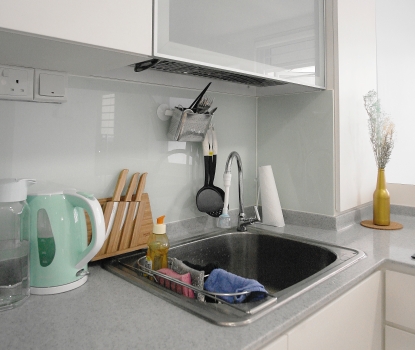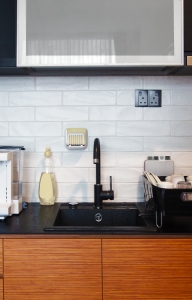 2. Cast iron
Cast iron sinks are typically sprayed with a coat of porcelain, giving them a glossy finish. Heavier than most, they are also a lot more durable, as they are extremely resistant to stains, scratches and fading. However, they are more expensive and require more maintenance as they cannot be cleaned with abrasive cleaners that may damage the material.
3. Composite
Composite sinks are mostly made of granite or quartz, and can be very durable and stain-resistant. However, due to their weight, they usually require some form of structural support and cannot be simply mounted to the wall.
4. Fireclay
Fireclay sinks are very similar to cast iron sinks, but don't chip or stain as easily, and can be cleaned with chemicals. However, they can be more prone to cracking, especially if constantly exposed to extreme heat. Most people choose fireclay for their farmhouse sinks, to create a traditional but stylish and timeless look.
5. Copper
Copper sinks, to say the least, are unique. Copper develops a 'patina' finish naturally, that turns the material a deep brown color, which gives copper sinks a very distinct look and feel. They're super low-maintenance and can be cleaned easily with just a rinse, and occasional soaping.
Installation
Materials aside, another important consideration for your sink is the installation type. Depending on your preferences and needs, different types can affect not only the entire look of your kitchen and counters, but also change or improve how you use your space!
Undermount sinks create a seamless look that is sleek, versatile and easy to clean.
Drainboard sinks are practical and are great space-savers, providing you a mess-free space to prepare food, or even dry your dishes!
Farmhouse (Apron) sinks extend over the countertop. They're prone to dripping, but can help reduce fatigue from bending over your sink!
Image: IKEA
Island sinks are great for complementing your workflow in the kitchen; just be aware of the extra costs involved!
Image: Flickr / chalonuk
Top mount sinks are easy to install and the cheapest option available. However, they may easily trap dirt and grime!
Corner sinks are great for maximising counter space, especially in awkward shapes and corners. However, as they have to be custom-cut to fit your counter, they can cost quite a bit too!
Image: BLANCO
With the big fixtures out of the way, it's important to think about the smaller items in the kitchen–and I'm sure there are many! From pots and pans to cutlery, to sauces and condiments, good organisation and storage solutions are definitely important in order to maintain a clean and neat kitchen.
With some planning, you'll be able to locate even the smallest of items within your kitchen with no problem! Here are our top tips on efficient storage for your kitchen.
1. Sink drawers
Installing drawers under your sink to store cleaning supplies such as soap and sponges can help reduce counter space and clutter, and are also convenient to use when washing!
2. Hang it up!
To maximise vertical storage, wall grids or metal strips can be installed to hang up tools. This not only reduces clutter but also makes tools easy to return and keep in order, so you'll never worry about losing them again!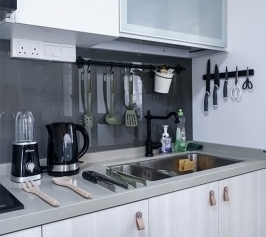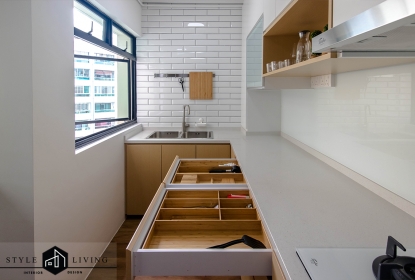 3. All about the height
For storage units (especially full-length ones!), commonly used items should be placed just a comfortable height, around chest to hip height–not too tall or short, so they remain conveniently accessible.
4. All out for display
Lower cabinets can be used as drawers to store lesser used items, while ensuring everything is still accessible and easily seen; this way, items won't be forgotten in the back and left to spoil.
5. Pulling the strings
If drawers are not preferable, pull-out inserts such as baskets and organisers can do the trick to categorise your items and keep them within reach. They're also easily customisable, so you get to do it whichever way you like!
6. Pantry pains
Group your pantry by category so you'll always know where to look for your items! For sauces and condiments, using a Lazy Susan can keep everything together in one place that's reachable at all times.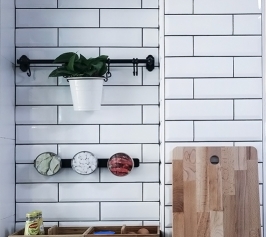 2. bathrooms
Bathrooms are another part of our houses that we sometimes pay less attention to when renovating our house. With typical installations such as showers, toilet and a sink or vanity, on top of considering the positions of water pipes, it's easy to feel constrained when it comes to designing a bathroom layout.
However, there isn't a lack of options as you might think–with bathroom renovations, the most important part is to think of what you would need the most in your bathroom. It could be more storage space to store bathroom or hygiene supplies and products, more vanity or counter space to get ready, or more space in the shower or bath area for better comfort.
All of these will affect how you ultimate design your bathroom, from the size of each section to the lighting and colours inside.
Typically, if the bathroom is your choice spot for getting ready every morning, warmer colours and lighting would be preferable in order to highlight the natural glow of your face instead of making you look pale and sickly. If you need more help on creating balanced and adequate lighting, check out our guide to lighting here! Need more space to store your supplies? Look into built-in cabinets that can maximise the limited space in your bathroom, and help keep your items neat.
Bathrooms are, in the end, all about you and how you intend to use it. So despite what you may think or feel, the possibilities are endless!
Here are 4 simple tips to set you off to create your ideal bathroom!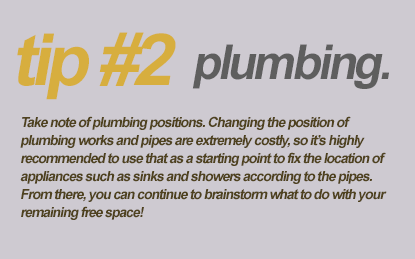 From skincare and makeup products to daily toilet necessities, there's no doubt that keeping the toilet constantly organised can also be quite the challenge.
Here are some tips that may help you battle the clutter that seems to always find its way into your bathroom!
Use special containers or holders, that can provide smart storage solutions, especially for odd-shaped items! (For example, toilet paper holders that allow you to stack them up not only help store them in a small space, but they're easy to reach out for when needed!)

Organise items into clear boxes and label them, especially for small items. This way, you'll always be able to see and know what you have on hand and where it is — especially good for snooze-in mornings!

Otherwise, baskets also work well for organising larger-sized items such as towels!

Keep counters free of clutter; draw a line where your items should not spill over into, and you should find yourself with more counter space than you'd expect.

Drawer dividers can help small items like bracelets and earrings stay organised, and make sure they don't go missing!